Overview of non-woven shoe cover machine
Date: 10/15/2020 4:09:00 PM Click: 284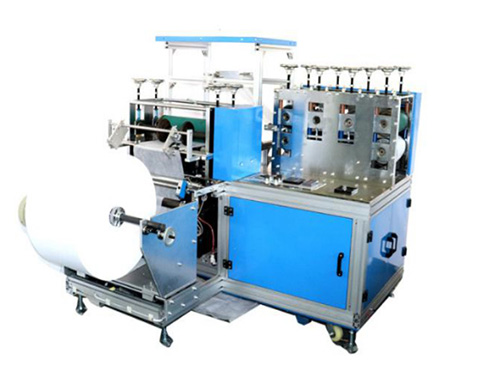 Non-woven shoe cover machine, also known as foot mask machine, is a special machine for automatic production of elastic non-woven fabrics, plastic shoe covers or foot masks. The output can reach 30 pieces per minute. This shoe cover machine is suitable for hospitals, foot baths, saunas, For beauty industry or dust-free industry, the whole machine is fully automated from automatic feeding to finished product without any manual operation.
Function
1. Stitching: Use ultrasonic waves to directly stitch all kinds of fabrics without needles and threads, which can achieve the effect of waterproofing.
2. Lace: The use of ultrasonic waves can be used to press all kinds of leather/cloth into any pattern without burrs.
3. Hot stamping: Hot stamping can be performed on all kinds of leather/fabrics by ultrasonic, with fast speed and good effect.
4. Hemming: the use of ultrasonic can be used to hemming all kinds of leather/fabrics.
Features
1. Independent research and development design, product quality is guaranteed;
2 Using Taiwan imported piezoelectric chip, the output is strong and stable; frequency conversion motor control, precise operation;
3. The flower wheel is made of gold steel material, the welding head is wear-resistant and has a long service life
4. The flower wheel is easy to disassemble and assemble, and the flower wheel of various graphics can be replaced according to customer needs; eccentric adjustment, flexible, fast and high level
5. The working speed is fast, the product effect is good, and the quality is guaranteed
6. A full set of high-quality imported components are assembled with stable performance;
7. The use of ultrasonic and special steel wheel processing, does not damage the edge of the cloth, no burrs
8. No need to preheat during work, and can be operated continuously
Company Profile
China Forbona Group Litimed is a company who mainly manufacture cotton swab machines,company has been specially committed to develop and manufacture automatic machine since it is established. We always adhere to the implement of the "integrity, innovation, communication" for business purposes, also regard "technical services" as the spirit of the Founding of the community, and form a complete set of design, manufacture, installation, commissioning, training, maintenance of one-stop service system.
Email: sales@forbona.com
Tel:+86-577-65513216
Phone:+86-18067766882