FBN-01 Cotton Swab Machine Description:
This machine is one step finishing machine,including cotton swab making machine,oven,packing station. The maximun speed can be up to 1200pcs per minute,suit for small and medium-scale enterprises. Machine only need 2-3 person to complete the operation.
The machine has excellent design, excellent configuration, excellent workmanship, exquisite cotton products, economic power and other characteristics, it is the best choice to Substitute old type design machine (large turbines) choice.
Oven internal structure is our latest original design, to ensure that economic power and efficient drying effect, the humidity at zero humidity.
we are the professional manufacturer of cotton swab machine in China.All of our cotton swab machine are including making、drying unit and packing unit in same machine.(a machine include one set mould and one packing unit already)
Techonology Parameter
Model
FBN-01
Power consumptional
8.5kw/hour
Capacity
1000-1200 pcs/min
Suitable Contton sliver
1.5gsm

Main Parts

Japan Omron PLC

Suitable Stick size

Length:70mm(±2mm)
Japan RKC temperature controller
Japan Omron Sensors
Diameter:2.0-2.5mm
Raiwan Weinview Touch-screen
Taiwan Delta Servo motor
Weight:1.6-2.5g
Taiwan Delta Servo motor drivers
Taiwan Delta inverter
Shape of cotton buds
Single head,Double head
Taiwan Airtac air cylinder
Taiwan Airtac Magnetic valve
Suitable stick
Plastic stick,Paper stick,Woodem stick,Bamboo stick
France Schneider relays
manner of packing
zip-lock bag,plastic can,square box,cardboard box and so on
France Schneider switch
Power supply
380V.3phase. 50hz(220V. 3phase. 60hz customizable)
Machine Size(L*W*H)
9.6*1*1.6 m
Drying type
Closed type drying oven,economical and effective
Machine Weight
1890kg
The samples made from our machine

Change mould to produce different shape of swab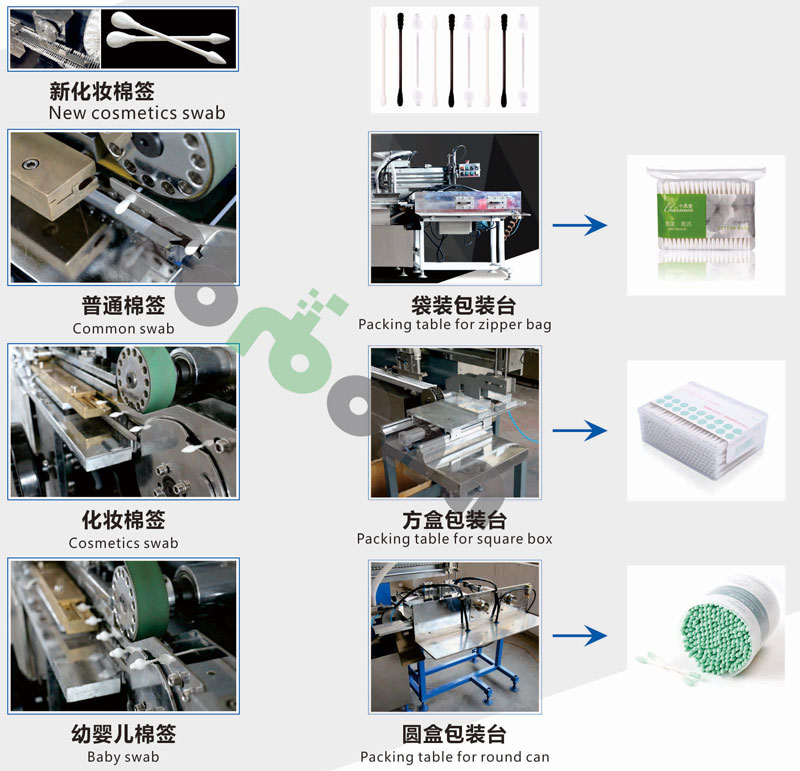 Real shot: