Use of cotton swabs
Date: 8/29/2020 3:31:00 PM Click: 360
Cotton swabs play an indispensable role in medical and health care and self-care. They give silently and naturally become a part of life.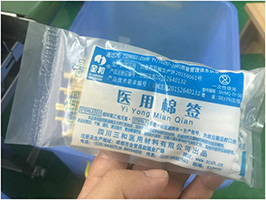 As a sanitary product, if the production environment is unhygienic and the population is too large, it is easy to infect the cotton wool with germs and threaten people's health and quality of life. Therefore, a truly safe, hygienic, and highly productive medical cotton swab machine has been created.
Company Profile
China Forbona Group Litimed is a company who mainly manufacture cotton swab machines,company has been specially committed to develop and manufacture automatic machine since it is established. We always adhere to the implement of the "integrity, innovation, communication" for business purposes, also regard "technical services" as the spirit of the Founding of the community, and form a complete set of design, manufacture, installation, commissioning, training, maintenance of one-stop service system.
Email: sales@forbona.com
Tel:+86-577-65513216
Phone:+86-18067766882