Cotton Swab Making Machine Vendor
Date: 9/17/2019 3:51:00 PM Click: 1400
China Forbona Group Litimed is a company who mainly manufacture cotton swab machines,company has been specially committed to develop and manufacture automatic machine since it is established. We always adhere to the implement of the "integrity, innovation, communication" for business purposes, also regard "technical services" as the spirit of the Founding of the community, and form a complete set of design, manufacture, installation, commissioning, training, maintenance of one-stop service system.
Phone: 0577-65513216
Mobile: 18067766882
Email: sales@forbona.com
product description
FBN-01 Cotton Swab Making Machine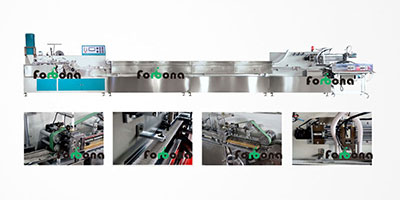 This machine is one step finishing machine,including cotton swab making machine,oven,packing station. The maximun speed can be up to 1200pcs per minute,suit for small and medium-scale enterprises. Machine only need 2-3 person to complete the operation.
The machine has excellent design, excellent configuration, excellent workmanship, exquisite cotton products, economic power and other characteristics, it is the best choice to Substitute old type design machine (large turbines) choice.
Oven internal structure is our latest original design, to ensure that economic power and efficient drying effect, the humidity at zero humidity.
we are the professional manufacturer of cotton swab machine in China.All of our cotton swab machine are including making、drying unit and packing unit in same machine.(a machine include one set mould and one packing unit already)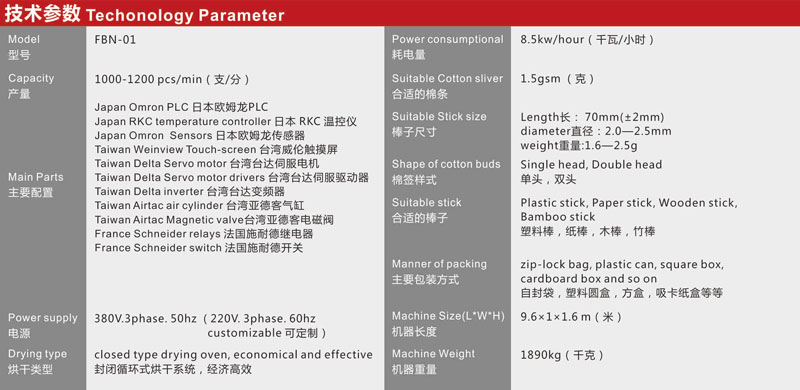 FBN-1200MS Medical Cotton Swab Machine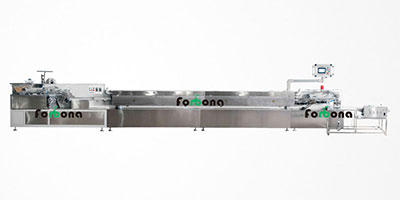 The machine provides integration solutions with production, drying, packaging in one step , cotton swabs made by this machine is compliance with country medical rule second grade,is yours best choice to make medical and daily use cotton swabs. All the aircraft door using high-grade stainless steel, beautiful, hygienic and easy to clean. Mould is made of stainless steel replace brass, more durable, more beautiful shape of a cotton swab. Oven internal structure is our original design, the cotton humidity control at zero humidity, perfect to solve the problem of mildew of bamboo stick , wood sticks by humidity
Packaging part can reduce the quantity of labor, only two workers to complete the bagging and packaging sectors, saving production costs.
Control system uses advanced Japanese technology and use beautiful and practical rocker touch panel, easy operation.
Machine parameters:
| | |
| --- | --- |
| Model | FBN-1200MS |
| Capacity | 1000-1200 pcs/min |
| Main Parts | France Schneider PLC |
|   | France Schneider Touch-screen |
|   | France Schneider inverter |
|   | France Schneider relays |
|   | France Schneider switch |
|   | Japan SMC air cylinder |
|   | Japan SMC Magnetic valve |
|   | Japan Omron Sensors |
| Power supply | 380V. 3phase. 50hz (220V. 3phase. 60hz customizable) |
| Drying type | closed type drying oven, economical and effective |
| power consumptional | 6kw/hour |
| Suitable Cotton sliver | 4 g/m |
| Suitable Stick size | Length:80mm,100mm,120mm |
|   | diameter:2.3—2.5mm |
|   | weight:1.6—2.5g |
| Shape of cotton buds | Single head, Double head |
| Suitable stick | Bamboo stick,paper stick,wooden stick |
| manner of packing | Film bag |
| Machine Size(L*W*H) | 9.6*1*1.6 m |
| Machine Weight | 1890kg |